HOW TO DEVELOP AN APP LIKE WHATSAPP
Looking at the wide-spread hacking and security threats, security becomes of the utmost importance when we consider mobile app development. Every single day we come to hear instances where data has been breached or an account has been hacked due to the development flaws. Therefore, it has become a necessity in these times to develop an app which makes use of secure and encrypted messaging app like whatsapp.
Whatsapp is the most secure messaging app present on the market today. It was launched by Jan Koum and Brian Acton in 2009. This app runs on end-to-end encrypted messaging protocols. Along with protecting the communication it also ensures that no man in the middle hacking takes place. Simultaneously, its source code is available on github so that anyone can access it anytime for security checks.
This blog will focus on how it would be possible for you as an app developer to create a brilliant secure messaging app like Whatsapp.
For knowing the basics about building an app like Whatsapp you first need to be equipped with the knowledge about the basics of Whatsapp. So, let's dive right in without any further ado.
WHAT IS A WhatsApp APP? WHAT DOES SECURITY MEAN?
The first thing you need to know about this app is that it is a cross-platform app, which means that it can run on multiple platforms. It enables one-to-one as well as group messaging in which you can share texts, images, videos as well as documents and audios. Using this app you can also make one-to-one as well as group video calls.
WHY DO PEOPLE WANT AN APP LIKE WhatsApp?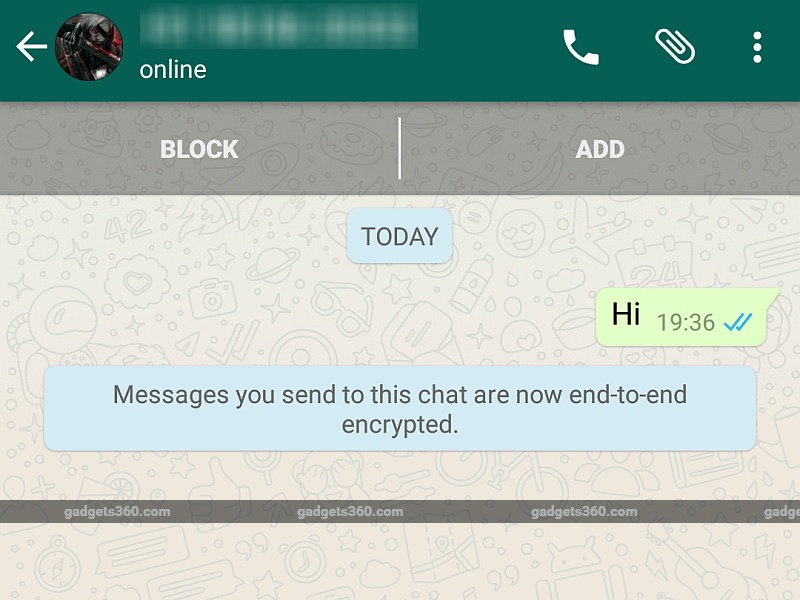 WhatsApp provides the users with high-end security features. As users want their data to be as secure as possible an app like WhatsApp comes out with having an edge over the other messaging apps like it.
So, let's have a look at the amazing features that are provided by this app:
Register via Contact Details
Message Disappearing
Audio & Video Calls
Private Encryption to Chats
Security & Encryption
HOW DOES THE DEVELOPMENT OF A SECURE MESSAGING APP LIKE WhatsApp TAKES PLACE?
Before jumping onto the development forte of the app it's crucial for us to know about the features, technique, pricing and the other parameters.
What Kind of Security Has to Be Added?
Here, by security, we mean encryption and encryption becomes possible with the help of these two processes:
E2E (End-to-End Encryption)
P2P (Peer-to-Peer Encryption)
Default Encryption Setting
A feature to be considered while adding a secure parameter to your application. It is not about the E2E encryption putting security layers to the application, but your application must have the option to turn on the end-to-end encryption. Meanwhile, in some of the scenarios, the message is being encrypted in a few instances.
Pre-decided Budget
At this point of the development of your app you must decide upon a budget of your app. As we are all aware, that the development of any app depends directly on the features that are included in the app.
Metadata
This is the most important as well the most difficult stage in the development stage of the app. This creates the most pains in the neck when adding security or user privacy to the application. The main function of this feature is to recognize the user and their credentials. Many applications store the metadata automatically.
Transparency
Benefits of Having A Secure App like WhatsApp. 
Now that you were successful in building a secure end-to-end encrypted messaging app like WhatsApp you should know about the benefits of an app like this. So, in this section you will know more about the advantages that this app has:
24*7 Security
Reliable Technology
Rich User Interface
Cost-Effective
Increase Productivity
Highlights Offered by WhatsApp Application Must-Have for Any Messaging App
Encrypted Chats
Contact Details for User Registration
Vanishing Message
Encryption and Security
Broadcast Media
Erase for Everyone
Registration Module
Time Taken to Develop WhatsApp like App
Registration Module
Real-Time Messaging Module
Contact Sync Module
Call History
Video Calling Module
Multimedia Sharing Development Module
Notifications Module Development
Share Your Location
Settings Module
Cost of Development of App like WhatsApp 
When you decide to create the copy of an app that is already there on market you need the most significant part is that the popularity and the cost required for the development of the app. When we talk about the development of an app like WhatsApp the cost that would be required for the development of the app depends on various factors:
The cost of development of such apps can vary from USD 30,000 to USD 70,000.
Cost of Development of iOS App
Cost of Development of Android App
South Asia
Eastern Europe
Australia
Western Europe
North America
To Sum up Everything:
Security is what everybody wants at basic to higher levels. In IT sector, you need to be delectable as well as unique at the same time. How much does it cost to develop an app like WhatsApp? What is its main criteria, etc. Is something that has to do with day-to-day life? Hence, the development of such instant messaging applications is a priority.
But mostly, the development cost is something that has turned the table around. Upgradations, compatibility with platforms are what adds value to such a development. Hence, we will end it up as one of the best way for improving the working efficiency and at the same time, along with ensuring the security of the data.