HOW TO BUILD A VIDEO CONFERENCING APP LIKE ZOOM?
From incarnating us within the confines of our homes to forcing us to work from home the years 2020 and 2021 have brought about many uncertainties in our lives. In uncertain and scary times like these it has become impossible for us to go to work in our offices, attend offline classes or meet our friends. Adapting to so many changes have not only been difficult but nearly impossible for us.
To make sure that work or classes conducted by schools and universities doesn't suffer due to the pandemic aka covid-19 many companies and universities and schools have been dependent on video conferencing apps like zoom, google meet and jio meet.
It was mentioned in a report by techcrunch that over 62 million users downloaded video conferencing apps like zoom in the course of only one week in the month of march. These downloads were done for both professional and personal use. The report portrays how the need for these apps has increased significantly over the past one year.
Ergo, building a video conferencing app can be a great idea as the demand will only increase in coming times.
REASONS TO DEVELOP A VIDEO CONFERENCING APP LIKE ZOOM:
BY THE YEAR 2026 THE VALUE OF THE VIDEO CONFERENCING MARKET WILL BE OVER 50 BILLION DOLLARS
THE SCOPE OF THIS MARKET IS SUFFICIENT AND SIGNIFICANT
DUE TO THE PANDEMIC THE APPEAL OF VIDEO CONFERENCING APPS HAS RISEN SIGNIFICANTLY
This is a pictorial representation of the statistical advancement in the increment of video conferencing app users.
After reading all the aforementioned benefits does it not sound beneficial to invest in this market? Developing a video conferencing app is a surefire path to success.
Building an app like zoom might seem like a difficult and nearly impossible task to accomplish but having access to the right tools makes it a hell lot easier. Believe me building an app like zoom is not nigh on impossible.
Now, the important question that arises in our mind is how do you build an app like zoom?
How to build an app like zoom?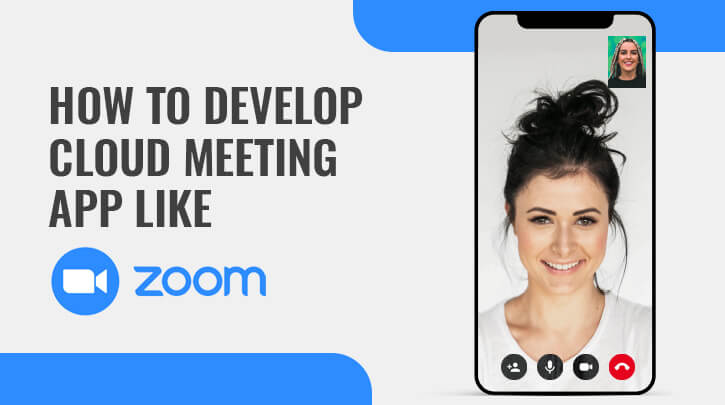 You need time, persistence, successful planning and smart planning in order to build an app like zoom. Using a concoction of just these five steps you can build your own zoom app!!!
AN UNWAVERING IDEA AND A MARKET STUDY:
It's only after a complete and thorough market analysis that you can make a video conferencing app. Traverse through the plans and ideas of your supposed competitors because this is a vital step in the app creation process. Be sure to include ideas and features in your app which distinguish you from your competition.
You need to put some attractive and cool features in order to allure the target audience.
Be different, be unique.
APPEALING DESIGN:
Having an idea is just the beginning. After having a lucid idea you need to make an amazing UI/UX design for attracting your users. For chiliadal users make sure to include attractive designs and appealing colour themes to catch their eye. Make sure to know who you want as your target audience.
BACK-END CODING:
Back-end coding is the foundation of any app. It is the backbone of the app development process. The database, web server and app server come under the backend coding. Backend coding is what sets the basics of the backend. Backend coding decides the functionalities that can be included within your app. You should ensure that your app is scalable as it is a vital step.
TECHNOLOGY STACK:
If you are planning your app to be single platform then you can use languages like java and kotlin for android apps and c and c++ for ios development apps.
If you're planning your app to be cross-platform, flutter and react native can be your options.
TESTING YOUR APP:
Testing the app is an important step. It's only after testing that you can ensure that your app is ready to be made public. You need to make sure that your app is devoid of any bugs so as to avoid anything spoiling your reputation at this initial stage. You need to make sure that your app is ready for your users.
These are the steps you need to follow meticulously so as to make a successful video conferencing app like zoom. There are many other steps and things to keep in your mind to ensure that your app has some necessary features as well to make its place in the market and in people's hearts.
NECESSARY FEATURES:
User profile management
App onboarding
Video calls and
Voice calls
End to end encryption
Group calls
Screen Sharing
Push notifications
Noise block
Virtual background
In app purchases
Stickers and
emojis
COST AND RESOURCE ESTIMATION:
Building an app can be a costly task to do. You need to either have your own funds, find some interested investors or take a loan from the bank.
If you have your own funds then there is no issue! You just need to find the right tools and tricks to invest your funds wisely. You need to make sure you are not redundantly wasting your money.
But, if you do not have sufficient funds for the project or you consider it wise to find some investors for your app as you have full confidence in your app you need to ensure the app is something people will invest in. imagine yourself as an investor. Choose your decisions and actions accordingly. You need to make the prototype of your app in such a manner that people believe in it.
Most of the time it's all in the marketing strategies. You can make the prototype of a surefire app and investors might not realize its potential due to the sloppy marketing and presentation skills. Along with your idea being a class you need to either possess persuading and influencing skills on your own or you need to hire someone who possesses those skills. Believe me, half of the time it's all in how you present your project.
CONCLUSION.
At the end i would only like to tell you that success and fame don't come easy. You need to work hard, smart and constantly. Failures should not scare you, because it's only after you fail that you can succeed.
William Churchill had quoted: "Success is not final, failure is not fatal, it is the courage to continue that counts."
Believe in yourself. Because if you don't have faith in your own abilities then how can you expect anyone else to? 
For more Information like this make sure to register yourself at NullClass now !!