How to Become a Mobile App Developer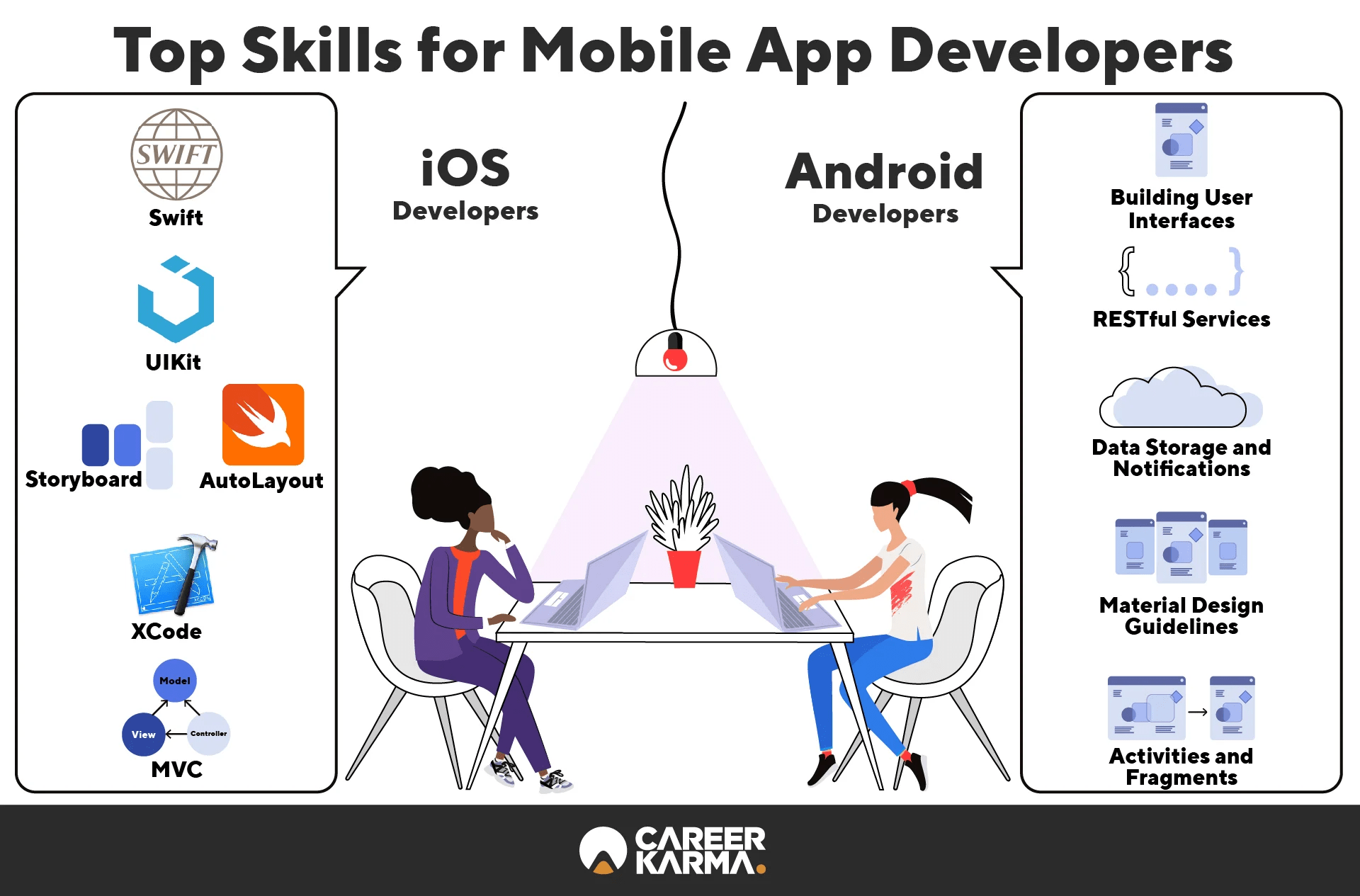 Everyone is interested in making the next great mobile application.
It can be an extremely profitable way to some extra bucks if only you know what it is that you're doing.
If you have got a great mobile app idea and decided to consult with a developer or an app development company, you might be surprised to hear how costly it is to outsource development.
So that's when the thought hits you, "I can just do learn to do this myself."
I can relate to this.
But where do you even start?
Depending on your current situation and your intentions, there are a few different options and routes you can choose to proceed further with.
I'll ensure that all the topics are covered throughout the blog pose so that you do not have to go anywhere else for this.
We will even be covering topics like how to estimate the cost of building mobile apps.
The development process for building mobile and web apps may sound intimidating and scary but, it's really just like anything else. If you put your mind to it and practice and put your time and efforts into it, it will get much easier and a lot less scary.
Along with all this, it helps to have some guidance from an expert in this field.
Here's everything that you need to know.
You first need to ask yourself this question:
Why do I want to become a mobile app developer?
So you're probably aware of how popular mobile apps are.
But do you know just how many apps are there?
Don't get intimidated by seeing the number of apps available across different mobile platforms.
Definitely, you will be having some competition, but the majority of these apps likely won't be in your industry.
Also, lots of apps out there are complete duds.
You do not have to worry about competing against those apps either.
With that being said, it's very important that you have a clear goal before you become a developer.
Here are a few common sample scenarios:
You aspire to build your own startup company.
You are trying to be a freelancer or are wishing to run a mobile app development shop.
You are a business owner that doesn't have the required funds to outsource the app development.
Probability is, you fall somewhere within these three examples. Regardless of your scenario, it's really worth noting that mobile app developers come in all the different shapes and sizes. Throughout the app development world, there is a great need for Android app development, iOS app development, and development needs for the various platforms, including the hybrid mobile apps. There are few Android developers who double as web developers. If you follow the path, you will be able to learn how to build a web app and Android apps simultaneously.
Let us say you have the next big idea.
You want to take that concept into the market and build an app to become the next Snapchat or Instagram.
If you fall under this category, I sincerely admire your aspiration and ambition.
This won't be an easy route, but if you get successful, it could potentially be the best thing that could have happened.
In this case, you will need to learn how to do everything from right from scratch.
You will also want to stop and consider how you plan to make money from the app you are developing.
Relying on the paid downloads might not be your best option.
In fact, the majority of mobile applications are available for free. And, let us face it, most of the people do not believe in buying an app.
So before you dive in head first, be very sure to you think about your strategy for generating profit.
For those of you who are into freelancing app builder or start your own app store, this isn't something you need to worry about.
You'll make money by charging clients to build apps for them.
There are three main options for you to proceed forward with if you are set of becoming a mobile app developer.
The three options are:
Just learn how to code everything.
Use app builders.
Use app builders and some coding.
Option #1: Just learn how to code everything
If you really want to become a mobile app developer, learning how to code is your very first option.
It is not required for everyone, but for some of you, this will turn out to be the best route you can follow.
Option #2: Use app builders
App builders are a perfect tool for existing business owners who want to use a mobile application to enhance their company and ameliorate their business.
You may not be having the budget to pay over $200,000 for someone else to build your app for you.
Learning to code probably isn't an option either due to the time boundaries of running a company.
Option #3: Use an app builder and some coding
The third option for becoming a mobile app developer involves a combination of our previous two options.
You can use an app building service and use some coding to build an app.
There are platforms available both free of cost and paid to teach you how to build your own app with ease.
Conclusion
Becoming a mobile app developer is easier than it sounds.
Depending on your current situation, you have got lots of options to choose from.
Learning to build mobile apps is ideal for people who:
Aspire to build their own startup company
Are trying to create apps for other businesses
Own a business and cannot afford to outsource development
There's a tremendous opportunity for profit in the mobile app development field.
If you are trying to launch a startup company, it is in your very best interest to learn to code everything right from scratch.
That's not necessarily the easiest of the routes, but it is certainly the most realistic.
Fortunately, you will not have to go back to school to do this.
There are plenty of online tools available that we discussed earlier that can teach you how to code from your own computer.
Thank you very much for reading this blog! I hope you have a wonderful rest of your day!
For more information like this do register yourself at NullClass now !